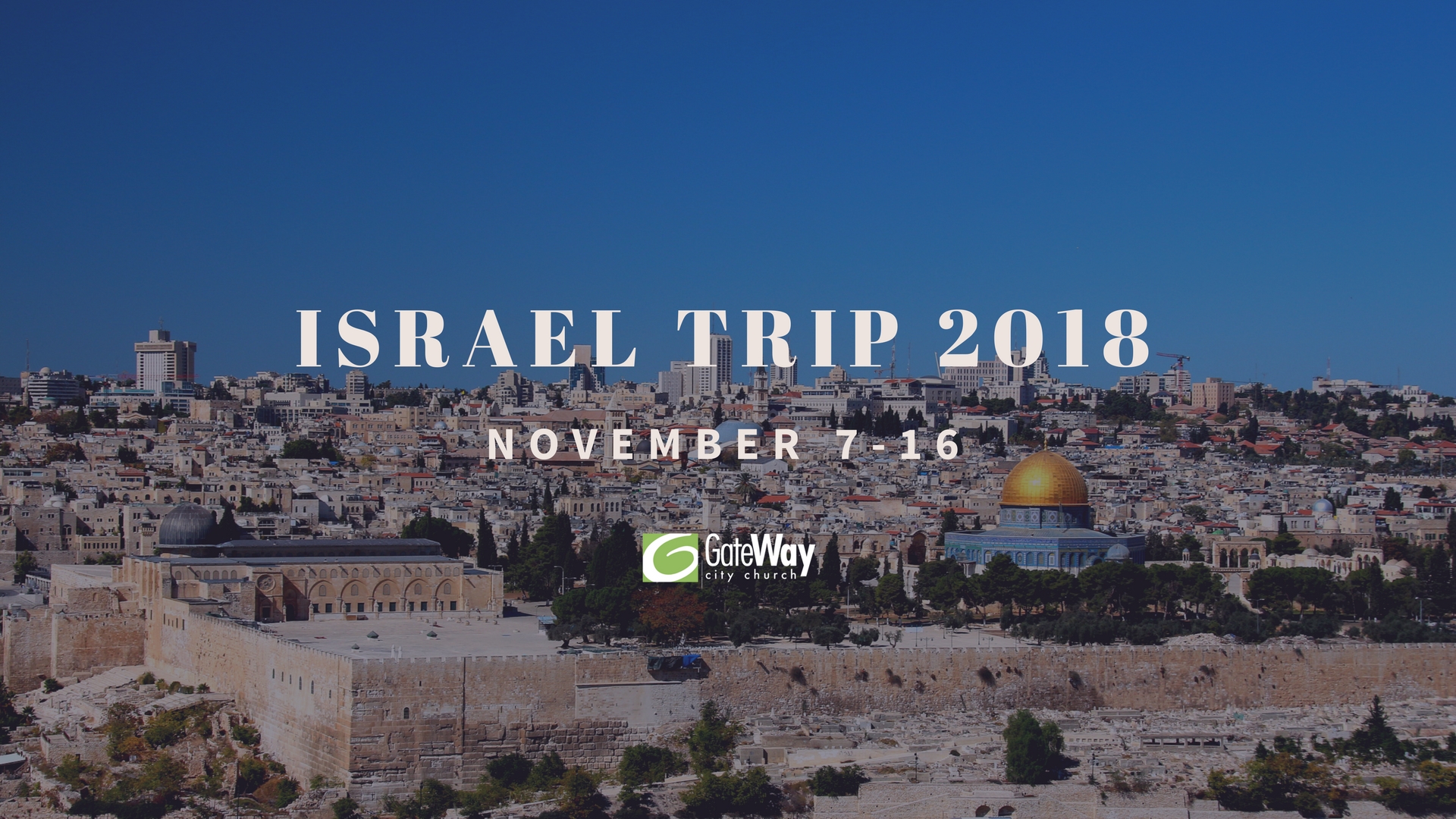 GateWay's Israel Trip 2018
Pastors David & Kathy Cannistraci invite you to experience the journey of a lifetime with them in the Holy Land. This trip comes at a special time, as we will be celebrating Israel's 70th birthday together! November 7-16, 2018
Please note: We have currently reached trip capacity for sign ups. We are putting names on a wait list on a first-come, first-served basis. There is still opportunity to attend the trip as people often change their plans and spots open up. So please sign up to be on the wait list if you are interested.

"Response to this year's trip has been tremendous. We have closed registration at 44 passengers due to bus size. But we will put names on waiting list on a first-come, first-served basis. If other passengers cancel their plans, travelers will be notified of the opportunity to book in the order they signed up on the waiting list. Travelers will need to respond in a timely manner to take advantage of the opening."
We invite you to join us for our fifth group tour to one of our favorite places in the world - The Holy Land. It is only here that Jesus walked, healed the sick and raised the dead. It is only here that you can visit the sites of both His crucifixion and resurrection. This is the land of Abraham, King David and the apostle Paul.
This trip comes at a special time, as we will be celebrating Israel's 70th birthday together. Trips like this create lifelong relationships and spark a unique appreciation for God's Word that only comes by "being there." Experiencing all of this together is the journey of a lifetime. We hope you will come along!
Why Visit Israel?
Millions of Christians safely visit Israel every year, and for good reasons:
Walk where Jesus walked
Pray "on site with insight" in the Holy Land
Experience deep and lasting fellowship
Get spiritually refreshed
Witness the miracle of modern Israel
The Bible will come alive
You will never be the same
Here are some of the amazing things we are going to do:
Visit major Biblical and historical sites
Have teaching from Pastor David Cannistraci
Pray together at significant sites
Meet Israelis and hear their stories
Experience a genuine Bedouin meal at Genesis Land
Leave your prayer notes at the Western Wall
Sail on the Sea of Galilee
Be baptized in the Jordan River if you wish
See En Gedi, where David hid from King Saul
Float in the Dead Sea
Experience the history of Qumran and Masada
View the amazing Golan Heights
Learn the incredible story of the Holy Land
Visit the Holocaust Museum
Enter the City of David
View Jerusalem from the Mount of Olives
Take Communion in the Garden Tomb
and much, much more.
Israel is not merely a vacation - it is a powerful spiritual experience. You will love Israel, and it will be special to see it together. Our tours exceed most everyone's expectations!
Israel 2018 Tour Cost:
Complete Land Package: $4,348 per person/double occupancy complete, including a $500 allowance for airline taxes and fees.
Our Complete Tour includes:
Airfare from San Francisco to Israel and back with $500 allowance for airline taxes and fees.
All transfers from / to the airport in Israel.
Lodging double occupancy in superior tourist class / 4 star hotels.
Full Israeli breakfast and dinner daily plus one Bedouin lunch at Genesis Land.
Daily private touring coach & English-speaking, government-licensed guide
Entrances to sites listed in itinerary.
Portage of 1 piece of luggage per person on arrival and departure from each hotel.
Local government hotel taxes at the current prevailing rates.
Admission to the Kotel Tunnel tour and Yad Vashem
Complete Bedouin meal at Genesis Land.
Boat ride on the Sea of Galilee.
Visit to Nazareth Village attraction center.
If you are pricing other tours, please don't be fooled. This is a top quality, "no surprises" approach to international travel. Don't be fooled by ads "too good to be true."
Not included in the above quotation: Any Government taxes on airline tickets above $500., voluntary tips and gratuities for drivers and guide, meals other than those specifically mentioned, spending money for snacks, drinks, souvenirs, laundry or transfers to or from SFO, Travel insurance, Cost of obtaining passports, excess baggage and forwarding of baggage, optional tours and costs resulting from absence or deviation from the planned itinerary.
About Our Tour Company
This is our fifth Israel tour using International Christian Journeys, a local tour company that has deep roots both in Israel and in the Christian experience. Our travel coordinator is Rev. Ken Carter, an ordained minister. Along with his travel career, Ken serves as minister of music and has traveled worldwide with the Billy Graham Association. We have carefully selected ICJ because of its superior quality, value and record of integrity.
Hosted by Pastors David and Kathy Cannistraci and GateWay City Church.
Book Your Reservation Today!
Invite a companion! Register and secure your place on GateWay's Israel Tour
November 7-16, 2018
To Register, make a deposit or full payment please contact:
INTERNATIONAL CHRISTIAN JOURNEYS
Toll free (866) GO2-HOLYland; (866-462-4659)

Specify GateWay's Israel Trip November 7-16, 2018. A deposit of $500 per passenger reserves your spot. $400 is fully refundable up to 90 days prior to travel. Balance is due in full 90 days before departure.